Custom Freehand Cut Silhouettes
Silhouettes are traditional and simple, yet full of charm. They recapture a piece of the past, yet remain the least expensive form of portraiture.
Today silhouette artists are hard to find, as few are skilled in the art form. Order yours today from a professional portrait artist with over 40 years of experience in silhouette cutting, and enjoy your heirloom forever.
Like My Facebook Page & Receive 5% Discount on Your First Order of Silhouettes
Over 40 Years of Silhouette Experience
Ruth Monsell has worked as a silhouette artist for over 40 years in venues from nursery schools to nursing homes.  Numerous historical societies and museums have engaged her, and she has cut at private and corporate events nationwide and in Canada, as well as on international cruise ships.
Available for weddings, parties, corporate and non-profit functions and fundraisers, just call the artist at 207-350-1020 for more details.
Ruth Monsell Cutting a Silhouette Portrait
A Very Brief History of the Silhouette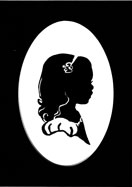 By definition a silhouette is a portrait depicted in an outline that has been filled in.  Though the silhouette's greatest popularity was between the mid-18th and mid-19th centuries, it is an ancient art form.   Examples can be found in Paleolithic cave paintings!  The Greeks made silhouettes by tracing shadows cast by the sun.  The Chinese were creating cut-paper designs very like silhouettes as far back as the Tang Dynasty (618 to 907 AD).
Their name comes from a Frenchman, Etienne de Silhouette (1709 – 1767) who reputedly cut silhouettes as a hobby.  He was also comptroller-general of France, and infamous for his tight finances.  Perhaps his name became synonymous with the art form because they represented (and still do) the least expensive means of portraiture.
Another Frenchman, August Edouart (1756 – 1821) was much more famous as a silhouettist.  Many of his wonderfully intricate silhouettes have survived, as he always cut a copy for himself and kept his work in albums.  Edouart portrayed most of the famous people of his era, both in Europe, where he did cuttings of kings, queens and nobility, and in America.  Here he did silhouettes of statesmen, athletes, writers, American Indians, aristocrats, and sometimes ordinary folk.
In England, where the cuttings were usually called "shadow portraits", Sir Arthur Rackham, the famed illustrator, published two books of witty silhouettes illustrating Cinderella and Sleeping Beauty.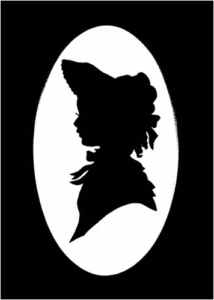 Today silhouette artists are few and hard to find.  My work is in part an effort to keep such an esteemed art form alive and available.  To me, there is great charm in the simplicity of the traditional cut silhouette, capturing as it can the essence of a person with a minimum of detailing, and calling on the viewer to use his own imagination to fill in the rest.
I hope you will frame, display and treasure yours, and pass them on to the next generation.
— Ruth Monsell
What Customers Think About Artful Heirlooms Silhouettes
I just wanted to thank you for the silhouette you did of my son. I love it SO much, truly. I will treasure it.
— Anne, Camden, ME
Great job! Mom loved it, as did I. I'm sure my daughter in law will be thrilled to get hers. Thank you again for your help. I was impressed with the speed and professionalism of your service.
— D.R. , Alvin, TX
I just wanted to say THANK YOU so much for the beautiful job you did on my son's silhouette &.exactly what I had wanted. I really appreciate everything you have done for me and I look forward to ordering again with you in the future.
— C.K., Reno, NV
We are thrilled with the silhouettes of our Joey. They are perfect – an heirloom I will cherish. Thank you. You captured him, including the tousled hair. Thank you again – you are quite a talented artist.
— DR, Lake Villa, IL
I am sending on the thanks to you from the parents in my son's class. They were very impressed, pleased and surprised with the silhouettes. They were a huge hit. Mountains of thanks for your beautiful work. I couldn't be happier.
— D.M., Ladera Ranch, CA