About the Silhouette Artist
Artist Ruth Monsell of Damariscotta, Maine loves to draw, paint and cut out people. Her specialties are the nearly-lost art of the silhouette, and portraiture. She began cutting silhouettes in New York in the late 1970's and has since worked as an artist-in-residence at dozens of schools, taught portraiture and silhouette art, worked live at innumerable art shows, and lectured on the history of the silhouette. She also cuts profiles from life at locations as diverse as schools, libraries, galleries, historical societies, museums, nursing homes, and aboard cruise ships. She finds that cutting silhouettes is also popular for corporate and private events, such as weddings, reunions or other large parties, across the U.S. and Canada.
Ruth has worked as a silhouette artist for over 35 years in venues from nursery schools to nursing homes.  Numerous historical societies and museums have engaged her, and she has cut at private and corporate events nationwide and in Canada, as well as on international cruise ships.
Already an established portrait painter, Monsell her career cutting silhouettes when she noticed a complete absence of silhouette artists at art shows. She taught herself the nearly-lost art form and found the response overwhelming. "I am constantly told by people that they haven't seen a silhouettist at work anywhere outside of Disneyworld in decades. They are often thrilled to be able to add to a multi-generational collection of older family silhouettes." There are only a few other silhouette artists in New England, and a handful scattered across the country.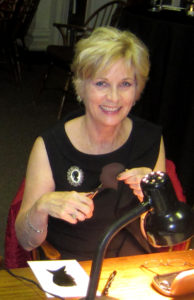 At any event, she finds that silhouettes not only provide guests with a custom heirloom, but also add to the entertainment. Watching profiles quickly emerge from just small scissors and black paper is fun to watch, and the comment she hears most frequently is "amazing!"
Reservations for sittings may be made at 207-350-1020. Optionally, you may click the button below to request a free quote through email.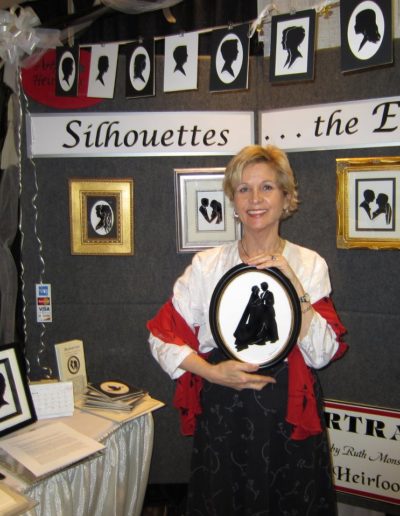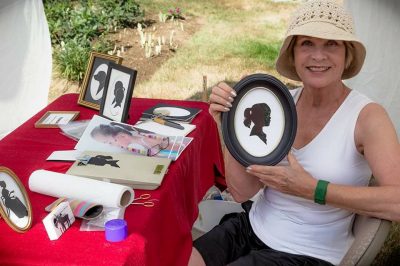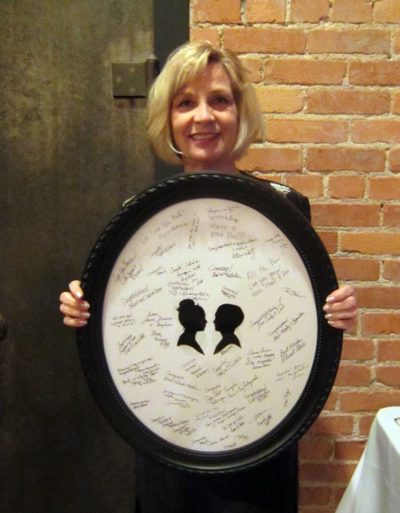 A Very Brief History of the Silhouette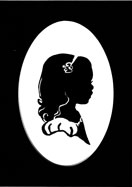 By definition a silhouette is a portrait depicted in an outline that has been filled in.  Though the silhouette's greatest popularity was between the mid-18th and mid-19th centuries, it is an ancient art form.   Examples can be found in Paleolithic cave paintings!  The Greeks made silhouettes by tracing shadows cast by the sun.  The Chinese were creating cut-paper designs very like silhouettes as far back as the Tang Dynasty (618 to 907 AD).
Their name comes from a Frenchman, Etienne de Silhouette (1709 – 1767) who reputedly cut silhouettes as a hobby.  He was also comptroller-general of France, and infamous for his tight finances.  Perhaps his name became synonymous with the art form because they represented (and still do) the least expensive means of portraiture.
Another Frenchman, August Edouart (1756 – 1821) was much more famous as a silhouettist.  Many of his wonderfully intricate silhouettes have survived, as he always cut a copy for himself and kept his work in albums.  Edouart portrayed most of the famous people of his era, both in Europe, where he did cuttings of kings, queens and nobility, and in America.  Here he did silhouettes of statesmen, athletes, writers, American Indians, aristocrats, and sometimes ordinary folk.
In England, where the cuttings were usually called "shadow portraits", Sir Arthur Rackham, the famed illustrator, published two books of witty silhouettes illustrating Cinderella and Sleeping Beauty.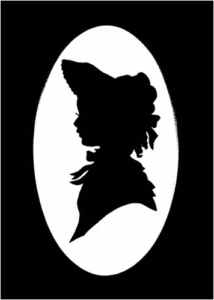 Today silhouette artists are few and hard to find.  My work is in part an effort to keep such an esteemed art form alive and available.  To me, there is great charm in the simplicity of the traditional cut silhouette, capturing as it can the essence of a person with a minimum of detailing, and calling on the viewer to use his own imagination to fill in the rest.
I hope you will frame, display and treasure yours, and pass them on to the next generation.
— Ruth Monsell