About the Artist of Artful Heirlooms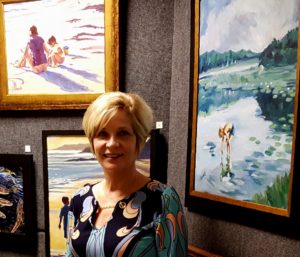 Ruth Monsell, a member of the Portrait Society of America, was always drawing as a child, which led to numerous art awards from the age of eight through high school. She went on to study art and art history in college, both in the U.S. and England. She continued her painting education in New York, Connecticut, and Maine. More recently she has studied portraiture with Daniel Greene and Margaret Carter Baumgaertner. She has also been an artist-in-residence at dozens of schools, and worked live at art shows since 1980. She has taught portraiture and painting both privately and at the Round Top Center for the Arts. She has sold paintings in pastel and oils in numerous Maine galleries.  Her work is in collections around the country and abroad.
Ruth welcomes portrait commissions in pastel, oil, charcoal, and conte. She strives for portraits that not only achieve an excellent likeness, but capture the spark of the individual's personality and spirit, whether the subject be a small child or a grandparent.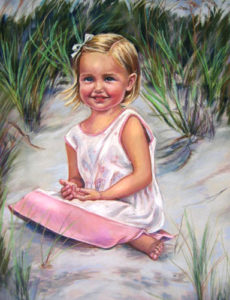 She finds painting children a particular joy, especially capturing candid moments in time in a child's life. With children, she works primarily from photographs, many from her own photo shoots. Subjects are often painted at play, exploring, or resting, or interacting with a parent or a pet.
Ruth adds, "With my own children grown, I appreciate how fleeting and precious childhood is. There is a quality of total absorption I see in children that I love to portray. I particularly like painting subjects outdoors, surrounded by nature and bathed in sunshine. Like the impressionist painters who have always been my inspiration, I find the effects of light and shadow fascinating and moving."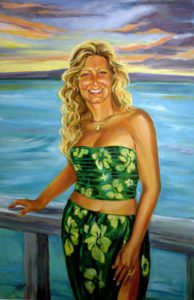 Ruth additionally welcomes the special challenge of posthumous portraiture, adding, "Since 1980, when I was asked to paint a 14-year-old boy who had died, I have had the honor of being selected to paint numerous lost loved ones. I've always found that the happiness and comfort such a painting can give to the family is extremely rewarding. I learn as much as I can about the deceased, and work from photos to capture the subject as fully and faithfully as possible."