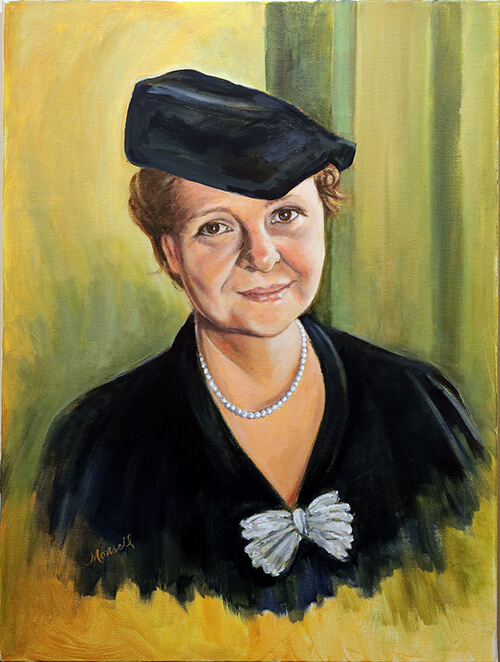 I have created diverse portraits ranging from newborns to seniors, individually and in family groupings, in a variety of settings and sizes. I have also completed numerous posthumous portraits. The goal is to create the portrait that fulfills your dreams, so I will work with you until you are 100% happy with the painting you have commissioned.
What customers think about Artful Heirlooms portraiture
I could hardly wait to open the portrait when it arrived.. Upon opening the meticulously wrapped package, I was simply overwhelmed. The attention to detail, the artistry, and the amazing manner in which Ruth captured Madie's "twinkle", had me in tears. Ruth's portrait exceeded anything I had ever imagined. On Christmas morning, the look on my Mother's face when she opened her present was the most memorable part of all. I couldn't ask for anything more. I am forever grateful for Ruth's talent, her generosity in working with me, and for the gift she ultimately gave to my Mother and to me this Christmas. My Mother tells me it warms her heart each time she passes by Ruth's amazing likeness of my daughter.
— Kelly B., Michigan
You captured Marsha's soul as well as her physical beauty. It's more accurate than a photograph. You did a fantastic job and I will treasure it always. This beautiful portrait is a comfort amid the grief. I can't thank you enough for the sensitivity you must possess to produce such a wonderful work of art.
— RB, Maine
From the bottom of my heart -thank you! You have captured the caring, the smile, the sensuousness, the grace, the love of my soul mate. Some people paint for a living – you are truly an artist. Love and God Bless.
— M.H., Casco, ME
I can't tell you how pleased we were with both of the portraits. You captured not only a remarkable likeness but also their own personalities. You truly have a gift! I look forward to seeing Suzanne's.
— R.N., Birmingham, AL
For you to have immortalized her in such a wonderful way means more to me than I can say. I am honored to have this portrait be a part of my family. Know that you have touched my heart.
— M.K., Shawnee, KS
Just a note to tell you again how absolutely delighted we are with (our dog) Robbie's portrait. You did a wonderful job of showing his loving spirit and personality. Everyone who sees it is amazed.
— B. & T.S., Walpole, ME
You did an outstanding job and we really appreciate it. The pastel is everything we wanted and much more. We are extremely pleased that we chose you to create it for us. You are a first class talented professional artist, and it was fun working with you. You are the best!
— S. & S. K., Tarpon Springs, FL